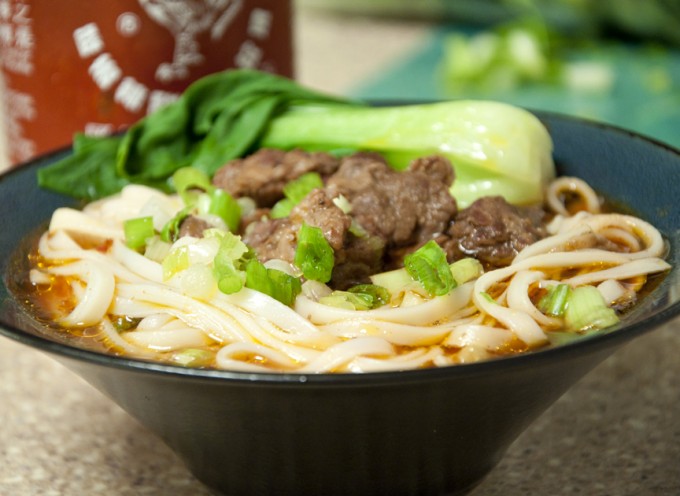 Niu Ro Mein… Just letting off steam
Somehow still not exactly like my parents', but still completely authentic. For five years that pressure cooker sat on the shelf.  I was a little scared of it.  I guess I had this notion that if used incorrectly it would errupt violently, spewing its contents all over the ceiling and taking my eye out in the process.  Eventually I got brave….  and had to feed a craving.
Thanks for the tips, Mommy!
Recipe: Chinese Beef Noodle Soup (Niu Ro Mein)
Ingredients
3 tablespoon oil
3 lbs bone-in beef shank, cut into 1 1/2″ cubes
4 ba jiao (star anise)
1 tablespoon hua jiao (Szechuan pepper)
10 cloves of garlic, smashed
6 slices of ginger
5 dried red chili peppers, crumbled
2 pieces of cassia (Chinese cinnamon)
3 tablespoons garlic chili paste
3 tablespoons Chinese rice wine
1 1/2 tablespoon salt
2 tablespoon soy sauce
1 teaspoon beef base
1 teaspoon chicken base
1 bunch green onions, chopped
dried Chinese noodles
Instructions
Cut the beef shank into cubes and set the bones aside.
Wrap the ba jiao, hua jiao, garlic, ginger, dried chilies, and cassia in a cheesecloth and tie it up with butcher string.
Heat 2 tablespoons of oil on high heat in the pressure cooker brown the beef shank cubes. Once the beef is slightly browned, remove it from the pot. Add 1 tablespoon oil and then the garlic chili paste. Return the beef back to the pot and deglaze the pan with the rice wine. I recommend Shao Hsing rice wine.
Dissolve the stock granules in some water and pour it into the pot. Toss the spice sack into the pot and add enough water to immerse all the ingredients and meat. Add in soy sauce and salt. If you used bone-in beef shank, throw this in as well. (Did you know bone broth is a mineral supplement and super food?)
Lock the pressure cooker and cook for 25 minutes after pressurization. After you're done, remove the bones, test and adjust the flavor.
Boil the noodles and, if you want, blanch some baby bok choy when you strain your noodles. Ladle the beef stew over the noodles. Garnish with green onions, bean sprouts, baby bok choy, and ENJOY!