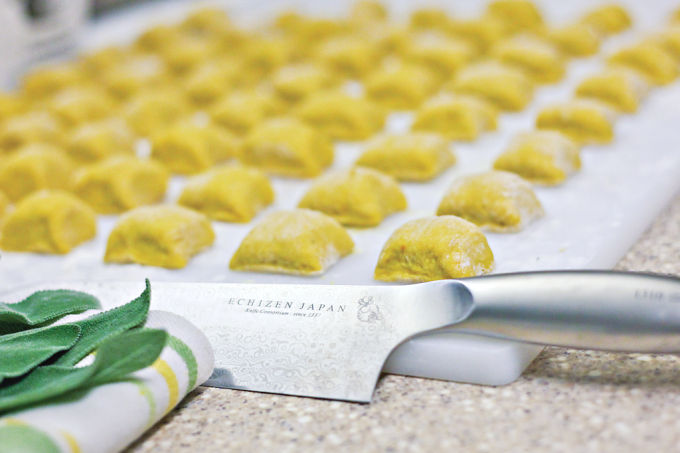 Butternut Squash Gnocchi
Recipe: Butternut Squash Gnocchi in Sage Butter Sauce
Ingredients
1 lb butternut squash (you can substitute with 1 cup butternut/pumpkin puree)
olive oil
1 egg
1 tsp kosher salt
1/4 tsp nutmeg
2 1/2 cup flour (approximately)
3 tbsp butter
1/4 cup sage leaves
parmesan cheese, shaved(optional)
Instructions
Preheat oven to 350.
Half the squash lengthwise and remove seeds and strings.
Lighlty rub olive oil on both halves.
Place on a roasting pan, skin side down and roast for 30 to 40 minutes or until fork tender.
Remove squash from oven, scoop out flesh and place in a food processor.
Set a large pot of water to boil. In a medium sized bowl, combine cooled puree, egg, salt and nutmeg. Add the flour in several additions, stirring to combine. Continue adding flour until the dough is firm enough to handle, but still somewhat sticky.
With floured hands, pinch off about a quarter of the dough. Roll between palms and on floured work surface to make a 1-inch thick rope. Cut rope rope into 1-inch pieces. Repeat with remaining dough.
Drop gnocchi into boiling water and cook until they rise to the surface, about 5 minutes and then strain.
Heat a large skillet over high heat and add the butter. Let butter sit undisturbed until edges begin to caramelize.
Quickly swirl the skillet and add the sage.cooking for about 30 more seconds. Remove from heat and season with kosher salt.
Add gnocchi to the butter sauce and toss. top with shaved parmesan if desired.