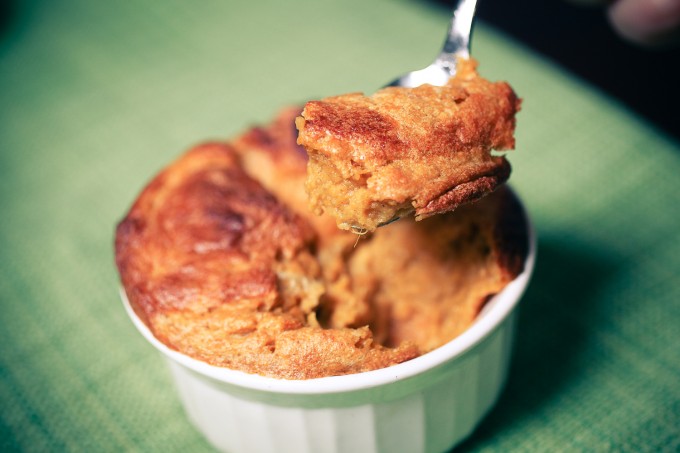 Sweet Potato Souffle
Recipe: Sweet Potato Souffle
Ingredients
1/4 cup granulated sugar, divided
2 medium sweet potatoes
2 tablespoons butter, softened
1/4 cup all-purpose flour
1/2 cup half-and-half
1 tablespoon grated orange rind
1/3 cup fresh orange juice
1/4 cup packed brown sugar
1 teaspoon ground cinnamon
3/4 teaspoon salt
2 large egg yolks
5 large egg whites
Instructions
Position oven rack to lowest setting, and remove the middle rack. Preheat oven to 425°.
Coat a 1 1/2-quart soufflé dish (or 8 individual ramekins) with cooking spray. Sprinkle evenly with 2 tablespoons granulated sugar. Set aside.
Pierce potatoes with a knife and place on a foil-lined baking sheet. Bake for 1 hour or until tender. Let cool then peel and scoop out the insides. Combine potatoes and butter, and mash with a potato masher until smooth.
Lightly spoon flour into a dry measuring cup; level with a knife. Combine flour, potato mixture, half-and-half, and next 6 ingredients (through egg yolks) in a food processor; process until smooth. Transfer to a bowl and set aside.
Place egg whites in another mixing bowl; beat at high speed with a mixer until soft peaks form. Add remaining 2 tablespoons granulated sugar, 1 tablespoon at a time, beating until stiff peaks form (do not over beat). Gently fold one-fourth of egg white mixture into potato mixture; gently fold in remaining egg white mixture.
Gently spoon mixture into prepared dish or dishes. Sharply tap dish 2 or 3 times on the counter to level. Place dish(s) on a baking sheet; place baking sheet in a 425° oven. Immediately reduce oven temperature to 375° (do not remove soufflé from oven). Bake 1 hour or until soufflé is puffy, golden, and set. Serve immediately.
Thank you, Dalia!